You are here
Antony Johnston interview, 2000
Sun, 06/03/2012 - 06:03
--
gareth
[The following is an interview with Seth and his Happydale collaborater, Andrew Dabb, by Antony Johnston on PopImage, February 2000. You can read the original here.]
HAPPYDALE, HAPPY GUYS.
The authors of one of last year's best-received debuts talk about life, the universe and HAPPYDALE.
Andrew Dabb and Seth Fisher can afford to be happy: last year they lived a comics fairytale. At the start of 1999 they were complete unknowns. Andrew had experienced some success with short stories, and Seth had some editorial illustration work under his belt, but nothing more.
All that changed with the publication of HAPPYDALE: DEVILS IN THE DESERT by Vertigo in the summer of '99. A new book, by two young unknowns, in prestige format from a critically-acclaimed publisher. This is their story...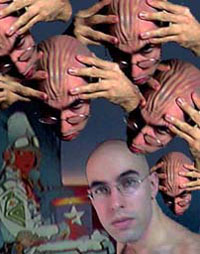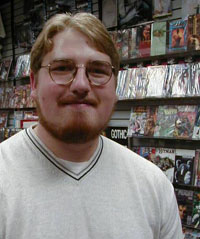 Andrew Dabb, the writer, is just 20 years old. Still at University in Utah (studying History, Anthropology and Latin), he's not your average fanboy. He describes himself as "Horribly self-involved and egocentric," but lists his hobbies as, "long walks on the beach followed by 16 straight hours of hot, sweaty baboon sex." He may like to talk (and boy, does he like to talk) but scratch him and you'll find a streak of humility.
Seth Fisher, the artist, is equally atypical. Older than Dabb, he majored in mathematics before moving to Japan to teach English. He divides his time between drawing (for as long as he can remember), and has "Had my eyes glued to the screen since my folks bought an Apple IIe when I was in grade school." He lives for the act of creation, whatever the medium, and after a brief spell in Italy, now finds himself back in San Diego. He's the quieter, more reasoned of the pair: the straight man to Andrew's righteous preacher.
Hang on a moment. Utah... Japan. What the hell happened there?
"We met over the Net," says Andrew. "I was trying to find an artist for HAPPYDALE, and probably looked at 40 or 50 different artists before finding Seth. Seth just blew the competition away."
"I actually scoured the Internet for a long time trying to find a writer that matched my tastes," Seth explains. "Finally I got hooked up with Andrew. I instantly saw the potential for HAPPYDALE and I felt like, this is as good an idea as I will ever be confronted with."
Andrew smiles. "Thus, HAPPYDALE was born."
At that time HAPPYDALE didn't even have a publisher lined up. Did they have any experience at all?
"I became interested in comics, especially Vertigo and the independents, during my senior year in high school," says Andrew, "And decided to convert two of my short stories into comics. Nine months, one trip to China and $2,500 later I self-published MODERN GRIMM #1, which was just overall not very good."
China?!
"During the summer before my Freshman year of college, I was given the opportunity to spend 3 weeks in China and Hong Kong. I took it, and MODERN GRIMM was nearly late as a result - not that anyone would have noticed! I learned what exactly goes on in Beijing bathrooms... and how not to act in a Hong Kong massage parlor."
"I saw the potential for HAPPYDALE and thought, this is as good an idea as I will ever be confronted with"
Seth's prior experiences are even less standard. Why on earth did he head East?
"I was interested in Japan for some time and had always wanted to go there. I didn't think I was ready to do art full time; I needed time to get my work solidified. I'd initially intended to go for one year to teach, and work on my art in the evenings, but it turned into four years pretty quickly. I came back every year to the San Diego convention and showed my work, though."
After they made contact, work on HAPPYDALE began, with Andrew and Seth firing emails back and forth. They're listed as equal co-creators on the work, but who was responsible for what? The book's characters are pretty unique, downright bizarre in places. How much collaboration went on between the two men?
"None," laughs Andrew. "It was all me! Seth got co-creator credit for keeping quiet about the 'Hooter's Incident'!"
Ahem. Quite.
Seth remains humble. "Andrew and I both contributed characters, but the story arc was almost all Andrew. And I think Paradox man was my character, but Andrew definitely saw his potential and made him a bigger player. Stretch, my favourite character, was Andrew's all the way. And no, I didn't base Denny on Andrew. I just drew Denny the way Andrew described him, and it came out looking like Andrew - spooky!"
"A geeky, overweight loser," recalls Andrew. "And it came back looking like me. I'm a stereotype!"
He continues, "I think with any book where a new atmosphere and characters are created, the artist should get a good deal of the credit. I provided short descriptions for the major characters, but the look and feel of the town and its people are all Seth. There's a big step between three lines and making the character live on paper. Seth deserves a lot of credit; he picked the good bits from my ramblings and improved on them."
"This really is the best way to break in. It's the same in film, books and music. Why should comics be the exception?"
According to Andrew, HAPPYDALE was originally "More X-FILESY, with aliens, angels and other supernatural creatures," but those aspects were significantly toned down along the way as they batted ideas back and forth. Was there any friction?
Both fall silent for a moment. Then Seth says, "There was definitely some tension as to where each of us wanted the story and the feeling of the town to go..."
"I tend to lean toward the more grim and gritty drama," says Andrew,"While Seth prefers things a bit lighter. Together the hope is we'll strike a happy medium."
"I like where we ended up with it. It was better than either of us could have done alone, and I think that's the real goal of collaboration."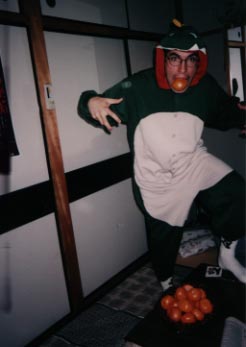 Let's get back to the characters. Dino - a guy in a dinosaur costume, natch - was drawn from Seth's personal collection. Yes, that really is Seth in that picture. Andrew takes one look and laughs. "Ha! I bet you'll never see Chris Bachalo doing that!
"I also remember Seth suggested Lincoln the midget - the only character to survive our original 8 page sample with a speaking part - should look like a miniature Wayne Newton, which I loved." Apparently Seth is also a character - "He's the naked guy doing aerobics in the park...
"Yes, the residents in the finished issue are all odd," finishes Andrew, "But it's not always clear how or why they are there. We both wanted to inject a sense of doubt. One, because that will keep people interested, and two, because with some residents the most obvious answer, even the one they tell you, is not necessarily the truth. So while the basic outline for HAPPYDALE came from me, it would be a far worse book without Seth there to give his input and add his own ideas."
With the foundations in place, the pair started hawking HAPPYDALE round various publishers. What was the reaction like?
"We submitted an 8 page sample of HAPPYDALE to a lot of different publishers," says Andrew. "Slave Labor, Caliber, Antarctic and Image. Slave Labor and Caliber never responded. Antarctic showed interest but didn't see the book as marketable, it's no WARRIOR NUN AREALA."
"If you expect your first ever large project to get picked up by the highest profile quality label in comics you're fucking delusional."
Finally, Jim Valentino at Image picked the book up, but then the line folded.
"Initially, only Jim, (obviously a man of excellent taste!) showed any real interest. But while his line wasn't around long enough to publish HAPPYDALE, he was always very encouraging toward us. An all around nice guy."
So the pair were stuck with no publisher and half a book. Did they carry on sending round what they had in hand?
Seth explains: "I told Andrew I wanted to finish HAPPYDALE before we pitched it again. It was a good book, and I thought that would give us a stronger position from which to sell it. Which it did, though I really hadn't anticipated it being picked up by DC! We were a big risk. I'd been told so many times by so many editors, 'I love your work but I don't have any jobs for you' that I thought, I have to prove myself first. And this was my way of doing that."
So Seth drew 128 pages of art, without a dime up front. Now that's commitment for you, but Seth doesn't see it as odd.
"This really is the best way to break into the field. It's the same in film, books and even music. Why should comics be the exception? It just makes sense."
The Image deal had fell through. No other publishers wanted it. They had 128 pages of finished art. What they needed was someone willing to take the time to read the whole thing, someone to see just how good this book as. Seth picks up the story at San Diego in 1998...
"DC Editor Andy Helfer knew my art from the year before at SD, and immediately gave me some Paradox Press work to do when I met him again. It was kind of a great timing deal because Andy was hoping to get a chance to work with me, and we had this full book done."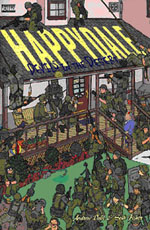 Andrew happily goes into more detail: "Seth had the entire book done and had put together a packet consisting of the first, lettered issue and some pages from the other three. We decided not to mail it out, but instead to hunt down editors at the convention. And yes, Vertigo was on the list, but let's face it: if you go with your first ever large-scale project and expect it to get picked up by arguably the highest profile quality label in comics you're fucking delusional."
"We expected to have it end up with Caliber, Slave Labor Graphics or possibly Oni. Failing that we were going to apply for an Xeric grant and self-publish."
Helfer was instrumental in HAPPYDALE's success, insists Andrew. "At the time he was running Paradox Press, and he's edited everything from JLA to RAGMAN. Honestly, he was the last person I thought would take a chance on two new faces."
"Seth was there on the first day of the con and handed the packet to Andy and Bob Shreck (then still at Oni). I didn't arrive until Friday, so didn't know about this. When I finally met Seth on Friday he told me an editor at DC had liked HAPPYDALE. I was stunned... though I didn't actually come out and accuse him of lying!"
"We met Andy very briefly, and I was in shock the entire time. Turns out Andy had taken the packet and read it Thursday night. Needless to say, this does not usually happen. But he liked the art, he liked the story and most of all he liked that it was all done. That was very important, since it showed we were committed, and he wouldn't have to screw around with us on deadlines.
"If HAPPYDALE had not been complete it would not have ended up at Vertigo, no way. The fact that it was a complete package people could take a look at offset to some extent the fact that Seth and I were unknown.
"Seth and I are probably the most boring people ever to work at Vertigo"
And it worked: within a few months Karen Berger had approved the project for Vertigo, even though Andy Helfer wasn't with the imprint. Finally, the contracts came through. How did they feel?
"I was very happy," says Andrew. "But I still didn't think it would happen. I loved HAPPYDALE. But would the publishers of PREACHER, SANDMAN and so on really want a book from some loser 20 year old? I was sure Seth would get work out of it, but that was all."
Seth is a little more cautious. "I was happy, but Andrew and I are in different positions. I was 26 while he was in school, so I have more of a feeling that I need to be moving forward in my life. It was sort of a sense of relief that I had finally broken the ice."
"It was only after I got my first check and started doing dialogue revisions with Andy that it all sank in," says Andrew. "When HAPPYDALE #1 came out I stayed online for 72 hours straight looking to see if anyone had noticed it! I have a stack of the books in a corner, and I still can't actually believe it happened."
Finally, he gives another reason why he finds it all so unlikely. "Seth and I are probably the most boring people ever to work at Vertigo. As far as I know neither of us have been heroin addicts; done prison time; grown up in a warzone; been involved with a cult; or seen aliens through a drug haze. We don't even smoke! We just don't fit the Vertigo stereotype, though I try to speak with my cockney accent when at conventions, Guv'nor."
But there it was. HAPPYDALE was out, on the shelves, and selling out all over the place. Not bad for a book by two new faces. But more than a few of those new faces have been disillusioned by the realities of the industry. How have they found it?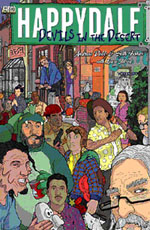 "Well, a few things surprised me," says Seth, "I was really taken aback at how important having published work is to getting more work, this Catch-22 situation for new artists. Obviously you need skill to a point, but after that there's a lot of networking. I was pretty disappointed to learn that. I've always been idealistic, hoping the best artists would always be the ones getting the work."
Has the networking aspect had any impact on Andrew? Being stuck out in Utah and all...
"I certainly don't really feel 'part of the industry' at this point. Utah is not exactly a comic book mecca, and I'm at school full time, so I have very little opportunity to network. For me it's that or write... and I usually write. HAPPYDALE opened a lot of doors for me, but not all of them... yet, anyway." With a smile he adds, "Maybe I should be talking to Warren Ellis. At least I'd get a Marvel gig out of it."
So where do they go from here? What can we expect to see from Andrew and Seth in the future?
Andrew admits that HAPPYDALE has opened a lot of doors for him. He also now has an agent, Mike Friedrich of Star*Reach. "I'm still not being offered SUPERMAN or, say, GENERATION X, I'm no Brian Wood! But editors will actually read things I send them, which in this market is about all you can ask.
"I'm working on different things and hopefully one of them will be out before this summer. KETCH, a project I'm doing with artist C. D. Regan, has some preview art at his website for the curious. The story revolves around a hangman in 16th century Germany, during the Inquisition and the Protestant Revolution. It's actually a pretty cool tale, but I have no idea where it would fit into the comic book marketplace.
"I want to experience as many different aspects to creating art as I can, and that means other mediums besides comics."
"I'm just concentrating more on graduating at the moment. That should change in a few months, when I'm armed with degrees in History and Anthropology and can settle down to a job at the local Burger King," he laughs.
Seth has a slightly clearer picture of where he's headed, but only in the short term. "Right now I'm designing and developing a game for Presto Studios in San Diego. We just put out STAR TREK: HIDDEN EVIL from Activision and the next thing will be even bigger and better. I do also have a fat Hal Jordan GREEN LANTERN book in the works for later this year, but I wouldn't get too excited... it's still a long way off."
But what about HAPPYDALE? Surely there must be more in the works?
"Yes, there is a planned follow-up HAPPYDALE mini," says Andrew. "But for obvious reasons, I don't want to talk about that too much. Gotta keep 'em in suspense!"
OK, time to wrap this up. They're both young, new faces in the industry. So time for the $64,000 question: where do they see themselves, and comics, five years from now?
Seth is pragmatic. "I've always been an artist first. I really don't think the medium, in this case comics, is nearly as important as the fundamental act of creation. I want to experience as many different aspects to creating art as I can, and for me that means other mediums besides comics. I'm doing game design right now, and I hope that will take me to some interesting places. Mostly I'm interested in learning new stuff, so I don't really care what I am doing in five years so long as it's different to what I am doing now, much as I love that.
"I think the future of comics is still up in the air. If we think back, comics were making people millionaires only 10 years ago, and for an industry to dry up and die in that short a time... well... it could turn into another goldmine again, given the right circumstances. But I'm not placing any bets, because as I said before I will make art regardless of whether comics exist for me or not. It is just another canvas for my paint."
"I plan to be the best writer in comics. I know how that sounds, but if you don't strive to be the best why even try?"
As you may expect, Andrew is more belligerent. "In five years, at the ripe old age of 26, I plan to be the best writer working in comics. I know how that sounds, but if you don't strive to be the best why even try? I am confident enough in my ability to think I can make a living writing and I know I have some great stories in me. I really want to get comics onto the bookshelf and I'm naive enough to think it will happen sooner rather than later. I don't expect this will be handed to me. I'm prepared to work for it. I just happen to think I'll be successful," he finishes with a smile.
"I think the online community is doing and will continue to do good things for comics book publishers and creators. Already you have mail order sites offering a fairly wide variety of comics and back issue selections. This is important, because it allows the reader to 'impulse buy' a lot more than just any books the retailer over-ordered."
"I like to think that five years down the line, diversity in comics will continue and move beyond genre to more universal drama. Best case scenario? I see people noticing comics books either through other hobbies or licensed products, such as POKEMON and wrestling, or through new books aimed more directly at children. I don't see why comics can't enjoy a resurgence among the general populace if the right product is put on the right shelves."
"Worst case scenario? You'll see the technology to make digital films become cheap enough that a lot of people who would have gone into comics will take that route instead. Without a new influx of talent comics are going to be left for those of us with a 'purist' approach. They could end up like poetry, around but not really embraced by the majority, though I think that's a bit more than five years away."
The last word, of course, goes to Andrew, and them's fighting words: "Comics, like any other form of entertainment, need interesting and compelling characters and ideas. Spiderman and Superman should have been replaced by new creations long ago, but nothing has had the support of fans and/or retailers to do that. Some of this is due to comics' serial nature, but mostly it's because the talent pool for comics, writers and artists, is about as shallow as it has ever been. There just aren't any new Jack Kirbys or Alan Moores on the horizon right now."
All characters, titles, images mentioned or shown are copyright and trademark their respective creators.

Antony Johnston is Reviews Editor of PopImage. And he'd like to thank Andrew and Seth for their extreme patience!